Although wireless technologies have improved tremendously in recent years, some people still prefer a good and reliable wired connection.
This also means that you don't have to manage battery life and you can play or surf for countless hours without thinking about charging your mouse.
Most gamers will prefer a wired mouse for minimal latency, although some cables can be stiff and drag when moving the mouse.
Therefore, when buying a wired mouse, you should not only consider the comfort, performance and ergonomics, but also how good the cable is.
1. Razer DeathAdder V2 – Best Wired Mouse
The best wired gaming mouse we've tested so far is the Razer DeathAdder V2.
The latest version of the legendary DeathAdder design is an excellent gaming mouse with a very simple design.
It has two side buttons, a customizable CPI and full RGB lighting.
It's pretty light too, at just 83g, which is impressive for a mouse that isn't designed to be an ultra-light gaming mouse like other options on this list.
This mouse features the latest Razer sensor, which offers exceptional performance. Movement with this mouse feels fluid and precise, and the feet glide very well.
It also has the latest Razer cable, which is noticeably lighter and more flexible than previous models. The mouse feels very well built and is great for almost any size of hand and grip.
However, people with small hands may find it a bit large, unless they use a palm grip, and the Razer Synapse 3's software can be tricky to use at times.
The silver lining is that the software offers you a host of customization options, including the ability to reprogram each button.
Overall this is one of the best gaming mice out there and it should please most gamers.
Main features :
Connectivity : Cable
Type : Standard

Related: Best Wireless Mouse
---
2. Razer Basilisk V2 – Best Wired Mouse For Gaming
If you prefer a mouse with a slightly slanted design and a thumb rest, go for the Razer Basilisk V2.
It's a bit more expensive than the Razer DeathAdder V2, but its performance is nearly identical, and it features a removable sniper button on the left side, as well as a left-to-right tilt button on the mouse wheel.
The thumb rest on the left side and its slightly angled design should be more comfortable during long gaming sessions, although it is a bit heavier.
It uses the same great cable as the DeathAdder V2 and has the same great sensor and low click latency.
This mouse is often compared to the Logitech G502 Hero as they have a very similar shape and overall design.
If you prefer a simpler mouse, go for the DeathAdder V2, but if you prefer a slightly slanted shape with a thumb rest and more buttons, go for the Basilisk V2.
Main features :
Connectivity : Cable
Type : Standard

---
3. Glorious Model O – Best Ultra-Light Wired Mouse
The best wired ultralight gaming mouse we've tested is the Glorious Model O.
The mouse design is ambidextrous and allows for multiple types of grip.
It's one of the lightest mice we've tested thanks to its honeycomb-shaped design, yet it still feels very well-built and durable.
Although designed with gamers in mind, it is also a good office mouse due to its comfortable and ambidextrous shape.
Thanks to a wide customizable CPI range and low click latency, it has excellent performance.
If you want to customize performance, its add-on software offers many customization options, including IPC and voting rate settings.
This mouse comes equipped with six buttons, all of which can be customized in the add-on software to suit your taste.
Unfortunately, it's a fairly large mouse, and those with smaller hands may have a hard time reaching all the buttons comfortably, regardless of the type of grip.
One solution to this would be to check out the Glorious Model O Minus, a smaller version of this mouse that we haven't tested, but which we hope will perform very similarly.
Overall, while it's not the best mouse for traveling due to its size and wired-only design, it's ideal for gaming from the comfort of your home.
Main features :
Connectivity : Cable
Type : Standard

---
4. Corsair Scimitar Pro RGB – Best Wired Mouse For MMO
The Corsair Scimitar Pro RGB is the best wired MMO gaming mouse we've tested so far.
This rather large mouse has a 12-button panel on the left side that can be moved forward or backward to allow for a more comfortable and ergonomic fit.
It looks and feels extremely well built without wobbling or loosening, thanks to its solid aluminum and plastic frame.
It is suitable for all hand sizes with a claw grip, and only people with extra large hands will find it too small for a palm grip.
The mouse is quite heavy, which helps it feel much more solid overall. Thanks to its strange design, it has a very low click latency, and the performance of its sensor is exceptional.
Within Corsair's companion software, you can set the CPI anywhere from 100 to 16000 in increments of 1, which is great.
Through the software, you can also set your take-off distance, and reprogram the 17 mouse buttons into a wide variety of options, from macros to launching applications.
Unfortunately, the rigid cable isn't the largest and it retains a fair number of kinks from the packaging, which could be annoying dragging across the desk.
The enlarged mouse wheel also lacks some features like L / R tilt buttons or any kind of horizontal scrolling.
That being said, if you play a lot of MMO games, the customization features, adjustable button panel, and excellent build quality make this the best MMO mouse we've ever tested.
Main features :
Connectivity : Cable
Type : Standard

---
5. Razer Viper Mini – Best Budget Wired Mouse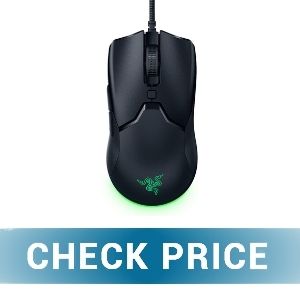 The best budget wired mouse we've tested so far is the Razer Viper Mini. It has a very similar design to the regular Razer Viper, but is much smaller and lighter.
This gaming mouse has a nice RGB strip on the lower part of its body, which can be customized within its compatible software.
The small body of this mouse is ideal for a fingertip grip or a claw grip if you have smaller hands.
The performance of its sensor is not the same as the rest of the Viper line, but it is still very good and should satisfy most people.
It's also one of the lightest mice we've reviewed and it's not designed to be an ultra-light gaming mouse like the ones with a honeycomb pattern like the ones on this list.
It is still very well built and comfortable to use if you like ambiguous shapes.
Unfortunately, due to its different sensor, its CPI cannot be set very high, although we hope the 8500 is more than enough for most people.
Also, it may not be the best option if you have big hands, as you could feel cramped when holding this mouse.
On the other hand, the Razer Synapse offers lighting and performance customization and this mouse's cable is very light and flexible.
Main features :
Connectivity : Cable
Type : Standard

---
6. Anker High Precision
If you want something even cheaper, consider the Anker High Precision Gaming Mouse.
It's much heavier than the Razer Viper Mini and doesn't perform as well overall, but it does have a slightly wider adjustable CPI range and much more programmable side buttons.
This mouse feels surprisingly premium and well-built for its price and has a slightly angled ergonomic shape with rests for the thumb and pinky.
It has a ton of additional programmable buttons, including tilt L / R buttons on the mouse wheel.
Like the Razer, the accompanying software can only be installed on Windows, though it has built-in memory, so you can save your button mapping on a Windows PC and transfer it to a Mac without losing settings.
Not the best choice for people with small hands, If you want a simpler and much lighter wired gaming mouse and don't mind spending a bit more, get the Razer, but if you like having more side buttons or want to save even more, go for the Anker.
Main features :
Connectivity : Cable
Type : Standard

---